Exorcist Steps in Georgetown Now a Historic Landmark
Posted by Mark Washburn on Monday, February 18, 2019 at 3:15 PM
By Mark Washburn / February 18, 2019
Comment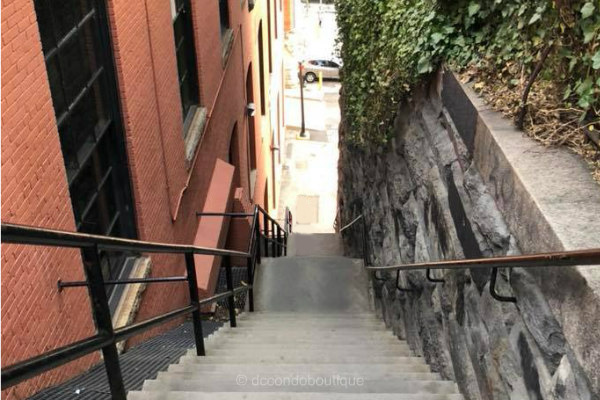 The infamous 97 steps situated between M Street NW and Prospect Street in Georgetown have recently been granted "historic landmark status" by the Historic Preservation Review Board. Better known as the "Exorcist Steps," the steps served as a pivotal backdrop to a climactic scene in the 1973 movie, "The Exorcist." Near the end of the movie, an unfortunate priest is thrown out the window and down the stairs to his death as he battles a demon for the soul of the 12-year-old heroine. When the Board voted to grant landmark status to the steps, they also designated the retaining wall on one side of them, as well as the old Capitol Traction Station building on the other side as historic.

Built at the end of the19th century as a three-story transit hub for streetcar companies, the Capital Traction Station was rarely used but is considered a "feat of engineering construction" by many historians. The structure also boasts a soaring clock tower and arched windows that are illustrative of the Romanesque Revival architecture popular at the time of its construction. The stairs were built at the same time and with their narrow width, blanket of ivy, and steep dimensions give off a creepy vibe even in the bright sunshine. Locals use the stone steps as a shortcut between Prospect Street NW at the top and Canal Road NW below.

The Board issued a report as part of its recommendations and downplayed the commercial success of the movie as contributing to the steps' recent landmark designation — rather it's the location of the stairs between two other culturally relevant sites. In addition, typically, the Historical Preservation Office doesn't consider sites that haven't become significant within the last 50 years and "The Exorcist" is only 46 years old by this standard. Second, the report maintains that just because the steps figured in a horror movie, they don't consider the movie "artistry" as they do the architectural elements in the Capitol Traction Station. Despite the Board's comments, the stairs officially became a tourist attraction during the Halloween season of 2015. The area held a ceremony with the film's director and screenwriter in attendance and unveiled a small plaque acknowledging the stairs' place in cinematic history.

Today, the Georgetown steps serve as a popular workout for runners working on their cardio as they chug up and down the stairs. And, according to local DC legend, any time a person attempts to count the number of steps, they will come up with a different answer.
Related Links
Search West End Condos
Palisades Real Estate
Glover Park Homes & Condos For Sale