Dupont Circle: Steeped in History
Posted by Mark Washburn on Friday, May 1, 2020 at 8:48 AM
By Mark Washburn / May 1, 2020
Comment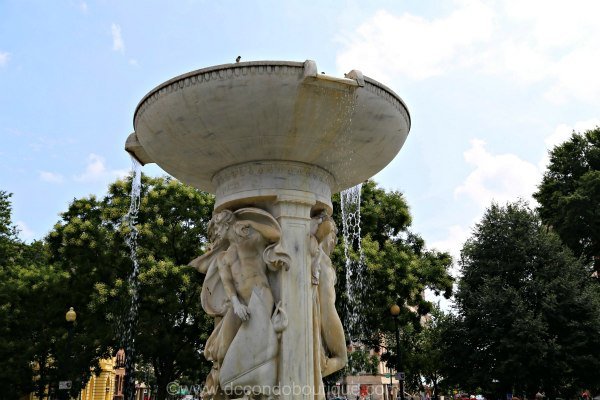 Developed in the late 1890s, the Dupont Circle area built a reputation as a fashionable residential neighborhood that lasted into the early years of the 20th century. The circle itself was originally called "Pacific Circle" and later evolved to "Dupont Circle" after Congress erected a bronze statue of Rear Admiral Francis duPont in recognition of his Civil War service in 1874. In 1921, city planners replaced the statue with a double-tiered white marble fountain that endures to this day.
The Historic District extends in all directions from the actual circle and is primarily residential. Despite the palatial mansions erected by some of the neighborhood's wealthiest citizens, the majority of the properties in the Dupont Circle Historic District, are row houses that were originally occupied by middle-class professionals. The mansions line the tree-lined diagonal avenues intersecting the circle while the row houses line the grid streets of the historic district. The varying houses and street patterns all contribute to Dupont Circle's distinctive character as well as reflect the abundant architectural talent of that era.
Dupont Circle Mansions
The Christian Heurich Mansion at 307 New Hampshire Avenue is one of the few Victorian homes still standing and was originally constructed in 1894 for the owner of the Heurich Brewery. Many of the fine estates have transitioned to house clubs and other organizations. The Patterson House at 15 Dupont Circle (1901) long served as the home of the Washington Club before its conversion to luxury micro-apartments. The current site of the Women's National Democratic Club was designed in 1892 and later received an addition in 1966. The Scott-Thropp House was designed by Hornblower and Marshall in 1890 in what they termed at the time "an eclectic manner" and is now the home of the Church of Scientology.
Dupont Circle Architecture
In contrast, the row houses built largely in the 1880s combine a number of styles ranging from Queen Ann to Richardsonian Revival to Renaissance and Georgian Revival. The 200 block of Hillyer Place is dominated by examples of the Queen Ann and Richardsonian Romanesque. While the Queen Ann style can take a variety of forms, certain key elements include a steep roof, decorative wood trim, an assymmetrical front facade and highly decorative wall surfaces with a variety of textures. The Richardsonian Revival style is named for architect Henry Hobson Richardson, who adopted the revival style (think "the castle" or the original Smithsonian Building) for residential use for row houses that extended from DC, Philadelphia and Boston to parts of the Midwest.